Indian IODP participants meet at NCAOR
Report on the Indian IODP Participants Meet
January 14-15, 2013
NCAOR Goa
Integrated Ocean Drilling Program (IODP) is an international endeavor which brings together scientists from different countries and disciplines to accomplish deep sea research by monitoring, drilling, sampling, and analyzing sub-seafloor environments. Ministry of Earth Science (MoES), Government of India, joined the IODP as an associate member in 2009 through an MOU with NSF, USA and MEXT, Japan. Since then, NCAOR, Goa has been designated as the nodal agency for all the IODP related activities in India.
Subsequently, a detailed Science Plan was developed by IODP-India which highlights prominent scientific issues from the Indian Ocean sector which require deep ocean drilling. As a follow up event, an international workshop was organized in Goa (Oct, 2011) to debate on challenges in scientific drilling in the Indian Ocean region. A scientific proposal for drilling in the Arabian Sea entitled "Deep sea drilling in the Arabian Sea: Discovering the tectono-climatic unknowns" was developed and submitted to IODP-MI. This proposal primarily aims to recover deep sea cores from the Arabian Sea to determine high resolution climate records and to reconstruct the erosion response of the Western Himalaya.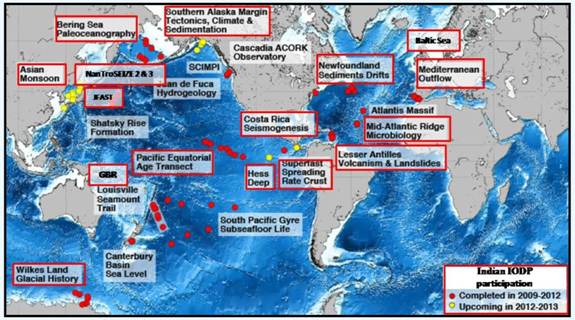 One of the significant aspects of the IODP association is participation of Indian scientists onboard IODP drilling platforms to get hands-on experience. The onboard experience of these young Indian scientists is an asset towards core capacity building in ocean drilling. In order to translate this experience in terms of high quality geo-scientific research, IODP-India organized a two day brainstorming meet of all the Indian IODP participants on January 14-15, 2013 at NCAOR Goa.
The meeting was inaugurated by eminent geoscientist Prof. V. K Gaur and attended by several distinguished geoscientists of the country as well as the National IODP Committee members. Interactive technical discussions among the attendees were facilitated through four different sessions- Environmental processes, Geochemistry, Geophysics and Deep Biosphere.
Detailed deliberations were made by the participants of the following IODP expeditions:
| | Indian IODP participation (2009-2013) |
| --- | --- |
| 1. | IODP-338 (NanTroSEIZE 3 - Plate Boundary Deep Riser2) |
| 2. | IODP-347 (Baltic Sea Paleoenvirontment) |
| 3. | IODP-346 (Asian Mansoon) |
| 4. | IODP-345 (Hess Deep Plutonic Crust) |
| 5. | IODP-343 (Japan Trench Fast Drilling Project: JFAST) |
| 6. | IODP-342 (Paleogene Newfoundland sediment drifts) |
| 7. | IODP-341 (South Alaska Margin Tectonics, Climate & Sedimentation) |
| 8. | IODP-340 (Lesser Antilles Volcanism and Landslides) |
| 9. | IODP-339 (Mediterranean Outflow) |
| 10. | IODP-336 (Mid-Atlantic Microbiology)* |
| 11. | IODP-335 (Superfast Spreading Rate Crust 4) |
| 12. | IODP-334 (Costa Rica Seismogenesis Project : CRISP) |
| 13. | IODP-325 (Great Barrier Reef Environmental Changes) |
| 14. | IODP- 323 (Bering Sea Paleoceanography) |
| 15. | IODP-322 (NanTroSEIZE Stage 2: Subduction Input- Japan) |
| 16. | IODP-321 (Pacific Equatorial Age Transect II- Juan de Fuca) |
| 17. | IODP-318 (Wilkes Land Glacial History) |
During the meeting, comprehensive presentation was made on the Indian IODP proposal in the Arabian Sea to decipher tectono-climatic linkages. Possible roles of Indian IODP participants in the Arabian Sea drilling proposal was explored through discussions. It was unanimously agreed that a core competence should be developed to deal with post-cruise science plan of the Indian IODP proposal in the Arabian Sea. Scientists attending the meet expressed their excitement towards the Indian IODP activities and requested IODP-India for continued association in future in this international endeavor. Further, participants suggested to form few theme based sub groups to chalk out prospective scientific drilling proposals emanating from Indian Ocean sector.
The meeting concluded with thanks to the Chair and the participants.
Program Details:
Date: 14-01-2013
09.30 AM – 10:00 AM Inaugural session
10.00 AM – 10:30 AM Invited lecture by Prof. V K Gaur (Structure of Bay of Bengal)
10.30 AM – 11.00 AM Vote of Thanks & Tea Break
Expedition Presentations:
Session 1: (Moderators: Prof. A C Narayana & Dr. Thamban Meloth)
11.00 AM – 11:30 AM Indian proposal for drilling in the Arabian Sea (D K Pandey)
11.30 AM -13.30 PM Presentation on IODP expeditions (338, 339, 341 and 342)
13.30 PM - 14.30 PM Lunch Break (at NCAOR, Goa)
Session 2: (Moderators: Prof. A K Singhvi & Dr. Rahul Mohan)
14.30 PM - 15.30 PM Presentation on IODP expeditions (325, 346, 322* and 347)
15.30 PM -16.00 PM Tea Break
16.00 PM - 16.30 PM Invited talk by Prof. I B Singh
16.30 PM - 17.00 PM Invited talk by Prof. A C Narayana
Date: 15-01-2013
Session 3: (Moderators: Dr. K S Krishna & Dr. Dhananjai Pandey)
10.00 AM - 11.30 AM Presentation on IODP expeditions (321, 323*, 334 and 343)
11.30 AM -12.00 AM Tea Break
Session 4: (Moderators: Prof. I B Singh & Dr. K P Krishnan)
12.00 AM -13.30 PM Presentation on IODP expeditions (318, 335, 340, 345* and 336)
13.30 PM – 14.30 PM Lunch Break
14.30 PM – 16.00 PM Interactive session towards further collaborations
16.00 PM -16.30 PM Tea Break
16.30 PM – 17.00 PM Concluding session