Deep Ocean drilling in Sumatra subduction zone to understand earthquake processes
The 2004 Mw 9.2 earthquake and tsunami that struck the Andaman-Nicobar Islands and north Sumatra region devastated huge coastal communities around the Indian Ocean. This earthquake showed unexpectedly shallow megathrust slip that was focused beneath the accretionary prism in the subduction zone. Observations on other active margins show that the seismogenic slip typically occurs more landward. This intriguing seismogenic behavior and forearc structure in this region are not well explained by existing geological models.
An international ocean drilling expedition in the Sumatra Seismogenic zone has been flagged off from Colombo on 6th August 2016. The 60 days long drilling expedition is being carried out under the aegis of the International Ocean Discovery Program (IODP) of which India is an Associate Member. NCAOR Goa is the Program Office for Indian IODP activities.
Expedition (IODP 362) aims to establish (1) the initial and evolving properties of the sediments in the Sumatra forearc region and (2) their potential effect on seismogenesis, tsunamigenesis, and forearc development for global comparisons.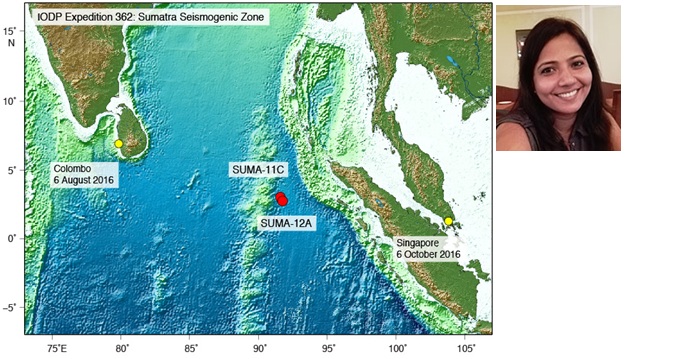 Dr. Nisha Nair, an Indian Scientist from NCAOR, Goa is participating in expedition-362 as Physical Properties Specialist. The expedition aims to collect more than 2000m long sediment cores from two primary sites in water depths of more than 4000m.The expedition is led by Dr. Lisa McNeill (UK) & Dr. Brandon Dugan (USA) besides ~30 other scientists from different countries.
More information on this expedition could be found either through email to iodp.india@ncaor.gov.in or through the expedition link: https://iodp.tamu.edu/scienceops/expeditions/sumatra_seismogenesis.html