The first ever Science Film Festival of India (SCI-FFI) organized by VidnyanParishad – Goa in association with Entertainment Society of Goa, Department of Science and Technology, Goa Science Centre and National Institute of Oceanography was inaugurated on January 14 at the Entertainment Society of Goa, Panaji. The inaugural ceremony was graced by Shri. SuhasGodse, Chairman, VidnyanParishad and National Organising Secretary, Dr. S.W.A. Naqvi, Chairman, Organising Committee and Director, CSIR-NIO, Smt. Padma Jaiswal, Secretary, Ministry of Science and Technology, Government of Goa, Shri. DamodarNaik, Vice Chairman, ESG and other dignitaries. The SCI-FFI was inaugurated by Shri. Srinivas Dempo, Chairman, Dempo Group of Industries.
As part of the Festival, several science fiction films were screened for the students and general public, workshops and magic shows were also organised for the students.

Eminent personalities, scientists and academicians gave talks based on their respective field of expertise to the students and had interaction with them. Institutes such as NIO, ESSO-NCPOR, GEDA, Goa Science Centre, State Forest Department, ICAR etc. also exhibited stalls displaying different facets of their work.
The ESSO-NCPOR stall was based on the theme 'Antarctica'. Several posters based on the basic facts of Antarctica were displayed for the benefit of young students and also general public. The audience were also introduced to the Indian Antarctic Program and posters were displayed regarding the different stations that India have built over the past 35 years of its existence in Antarctica. Posters pertaining to India's 1st Expedition to the South Pole and other significant information on Antarctica were also exhibited.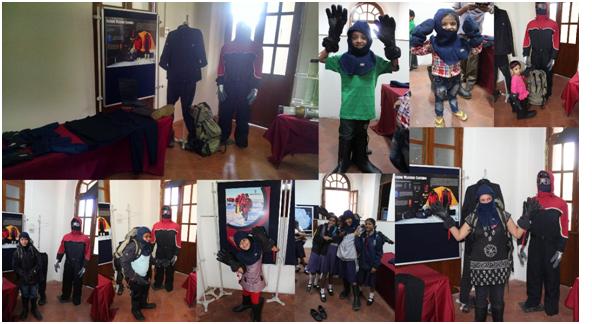 A variety of polar clothing was displayed and the young students and teachers were encouraged to wear the different accessories to get a feel of the Extreme Polar Clothing.
Interaction with School children